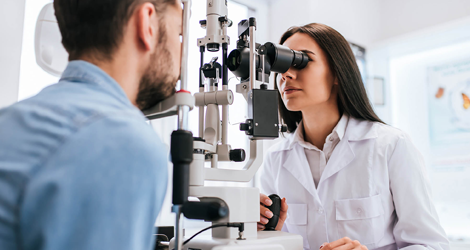 An eye exam helps detect problems at their earliest stage which increases its chances of treatment. Regular eye exams keeps you updated of any vision changes or even how to care. And at ivisioneers, we assure you will be treated with utmost care and concern.
An eye exam usually involves few tests to assess your vision and any eye problems. You are required to bring in your current glasses for the eye care professional to determine the best prescription for you. Sometimes the Optometrist requires to dilate the eyes for further evaluation. For this, it is recommended to bring along a friend for a ride back home !
At the end of the examination the Optometrist will discuss your eye health and measures your visual acuity to see if you need glasses or lenses to improve your vision. And our team will assist you in providing the best fit for your eyes.

When To Have An Eye Exam:

If the eyes are healthy with no symptoms of vision difficulties, the following schedule can be followed.

Children: Every year
Adults: Every 2 years
Seniors: Every year

*Children under 3 years and younger are generally assessed by their Pediatrician for common eye problems unless they see a concerning factor then an Optometrist is referred.

*Young toddlers and adolescents are better off with an eye examination before starting Kindergarten.

Get a complete eye examination every 6 months to a year if:
Wear glasses or contact lenses
Have a history of eye diseases
Diabetic
Take medication having side effects on eyes.